Asian School on Superconductivity and Cryogenics for Accelerators
December 10-17, 2017
Welcome to the Asian School on Superconductivity and Cryogenics for Accelerators (ASSCA)!
This specified school is intended to provide a unique opportunity of hands-on training and lectures on superconductivity and cryogenics planned and operated by Asian people for Asian people, and held at the High Energy Accelerator Research Organization (KEK), Japan, which can offer the hands-on training environment and the lecturers on superconducting magnets, cavities and cryogenics for accelerators.
High energy physics through accelerators is the biggest promoter of Superconductivity and Cryogenics. Today, we are not able to think of high power accelerators like LHC and ILC without superconducting magnets and cavities. Many such accelerator programmes with superconducting cavities and magnets have been initiated in Asian countries. The present Asian School on Superconductivity & Cryogenics for Accelerators (ASSCA) along with hands-on training to train young researchers and students is on right time and at the right place.
My sincere thanks to KEK, Japan and ACFA to support this school. I firmly believe that the school with hands-on training will be very effective and fruitful.
Dr. T S Datta
Working Group (ACFA), Cryogenics and Superconducting Technology for Accelerator
Contributors
Click "LOGOS" to visit their web pages.
About the School
School Description
This school will provide not only knowledge on superconductivity and cryogenics for accelerators but also experience on them through hands-on training. The purpose is to educate next generation who has possibility to contribute to future accelerators. Number of participants around Asian countries will be limited to 40 for effective training on superconductivity and cryogenics at KEK.
Date
December 10-17, 2017 (8 days)
Venue
High Energy Accelerator Organization (KEK), Tsukuba, Japan
Registration Fee
The hands-on training and lectures will be offered free of charge. All participants will be provided single rooms at KEK dormitory and full board throughout the school starting with the evening meal on December 10 and finishing with breakfast on December 18. Some social events, such as a banquet and an excursion, will be charged to participants.
Application Deadline
July 15, 2017
Application
All applicants are requested:
1) Register on the school registration web page (click here to register).
2) Submit his/her CV and supervisor's recommendation to the school office by email.
These documents should be sent as PDF files.
The organizing committee will select the participants with these documents.
Program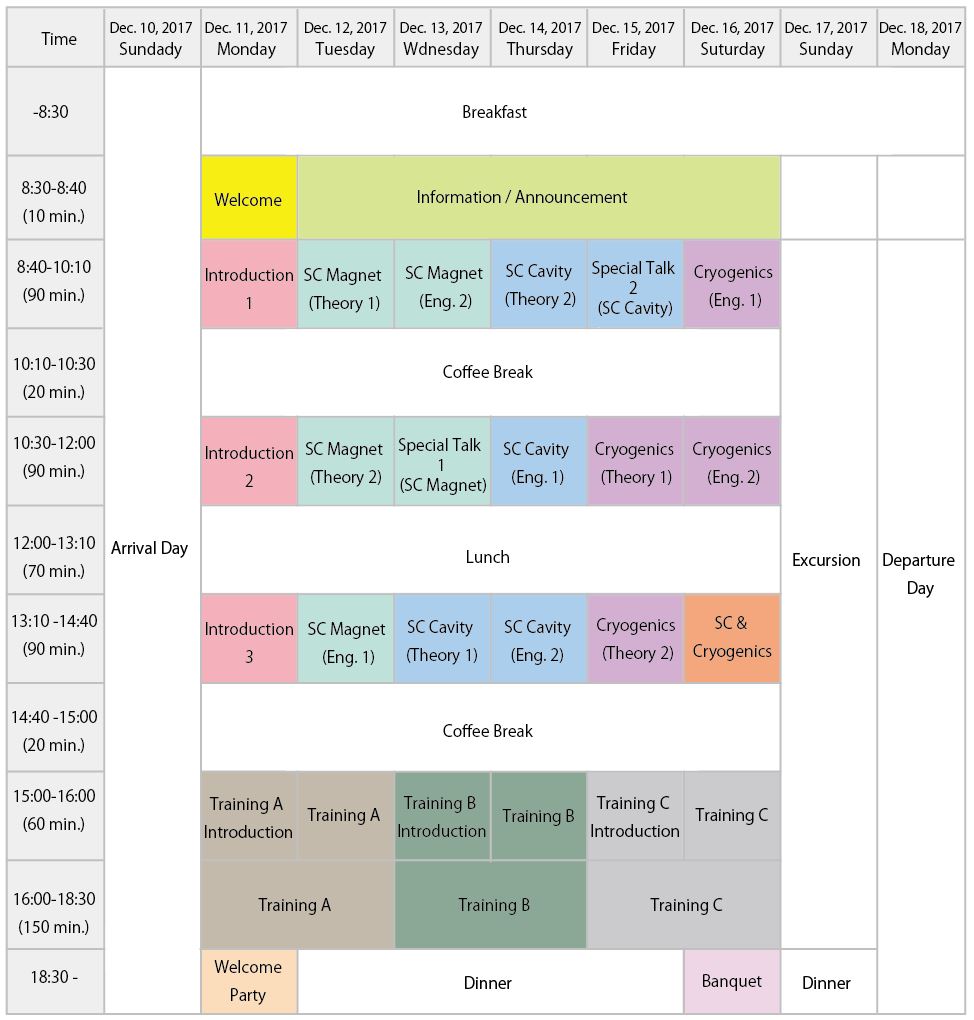 VISA
Please check the Ministry of Foreign Affairs of Japan website
" VISA / Residing in Japan " to see if you require a visa to enter Japan.
If you need visa, please contact the school office with a copy of your passport and the following information in order to receive the formal documents needed for the visa application.
- First Name * :
- Family Name * :
* In case of colleagues from China, both in Roman and Chinese characters
- Sex:
- Birthdate:
- Nationality:
- Affiliation:
- Position:
(Ex. Ph.D. student, PosDoc., Researcher, Engineer)
- Postal Address:
- E-mail:
- Phone Number:
- Embassy/Consulate to apply for Japanese VISA:
- Departing airport from your country:
- Arriving airport in Japan:
- Planned date of entry to Japan ** :
- Planned date of leaving Japan ** :
**If you stay somewhere before/after the school, please clarify the information as follows,
- Your purpose:
(Ex. Sight seeing, visiting friends, etc.)
- The hotel name:
- The hotel address:
Access
Tsukuba campus Access map is here »
Contact
School Office
For your submission of your application documents and further information on the shool, contact the school office:
(Ms. Yoko HAYASHI)
| | | |
| --- | --- | --- |
| Organized by KEK | Approved by ACFA | Supported by FAS |
Contributions
Contributions to this school from companies are highly appreciated. For details, please contact the school office.